1. All About Dogs c1900. 'With eighty-seven illustrations of the most celebrated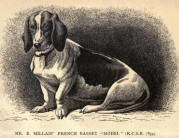 champions of our time drawn from life.?nbsp; 430-pages.
2. British Dogs. 'Their varieties, history, characteristics,
breeding, management and exhibition, illustrated with
portraits of dogs o f the day. Written by Hugh Dalziel.
c1879, 608 pages.
3. British Dogs, Their Points, Selection, and Show Preparation, with
Illustrations of Typical Dogs.. By W.D. Drury c1903. 680 pages.
4. Diseases of the Dog, and Their Treatment, by George Muller. c1911, 559
Pages, Illustrated.
5. Dog Breaking. The Most Expeditious, Certain and Easy Method, Whether

Great Excellence or Only Mediocrity be Required
with Odds and Ends for Those Who Love The Dog
and Gun. By Major General Hutchinson, c1865,
406 pages.
6. The Dog's Medical Dictionary, An Encyclopaedia
of the Diseases, Their Diagnosis & Treatment, and the Physical
Development of the Dog. By A. J. Sewell MRCVS, c1907, 392 pages.
7. Dogs of All Nations by W. E. Mason. 'A Complete Work, Profusely
Illustrated? C1915, 148 pages.
8. Dogs, Their Management And Treatment In Disease. A Study of the Theory
& Practice of Canine Medicine. C1891, 225 pages.
9. Everything About Dogs, by Al. G. Eberhart, c1917, 324 pages.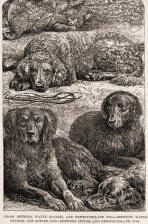 10. House & Pet Dogs, Their Selection, Care & Training,
With Portraits of Prize Winning Specimens of all Principal
Breeds. c1890, 130-pages.
11. Hunting Dogs. Describes in a Practical Manner the
Training, Handling, Treatment, Breeds, etc best adapted
for Night Hunting and well as Gun Dogs for Daylight
Sport. By Oliver Hartley, c1909, 259 pages.
12. Kennel Secrets, How to Breed, Exhibit & Manage Dogs.
c1891, 441 pages.
13. Modern Training & Handling. c1894, 358 pages. Illustrated.
14. Nursing Vs. Dosing, A Treatise of the Care of Dogs in Health and Disease.
c1897, 170 pages.
15. Practical Dog Training by S. T.. Hammond. C1882, 115 pages.
16. The Airedale Terrier by Holland Buckley. C1913, 105 pages.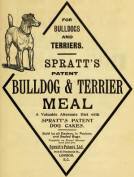 17. The American Book of the Dog, ? The Origin,
Development, Special Characteristics, Utility, Breeding,
Training, Points of Judging, Diseases and Kennel
Management of all Breeds of Dogs. C1891, 739 pages.
18. The American Hunting Dog, 'Modern Strains of Bird
Dogs and Hounds and their Field Training.?by Warren H.
Miller. c1929 282 pages.
19. The Boston Terrier, It's History, Points, Breeding, Rearing, Training and
Care, Together with several Instructive Chapters on Management and Diseases
of Dogs from a Common Sense View? c1906, 97 pages.
20. The Dog by William Youatt. c1845, 279 pages.
21. The Dog Book, ?A Popular History of the Dog, with Practical Information as
to care and Management of House, Kennel and Exhibition Dogs, and
Descriptions of all the Important Breeds. c1906, 645 pages.
22. The Dog Fanciers Guide, 'Plain Instructions for Breeding and Managing The
Several Varieties of Field, Sporting and Fancy Dogs, with the Most Approved
Method of Distinguishing and Treating the Various Diseases to which they are
subject. C1870's, 53 pages.
23. The Encyclopaedia of the Kennel. A complete manual of the dog, it's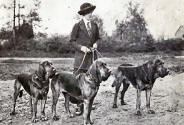 varieties, physiology, breeding, training, exhibition
and management with articles on the designing of
kennels. By Vero Shaw, 1913, 261 pages.
24. The Manual of Toy Dogs, 'How to Breed, Rear
and Feed Them? c1919, 120 pages.
25. Training The Hunting Dog, for the Field and Field Trials, by B. Waters,
c1901, 294 pages.