1. The Compleat Angler by Izaak Walton. 'Being a Difcourfe of Fish and Fishing Not Unworthy the Perufal of Moft Anglers.' 348 pages.
2. The Compleat Troller or The Art of Trolling, with a Defcription of all the Utenfils,
Inftruments, Tackling and Materials requifite thereto; with Rules and Directions how to ufe them,
as also a Brief Account of moft of the principal Rivers in England. c1682, 110 pages.
3. The Modern Angler containing the Most Esteemed Methods of Angling for Every Species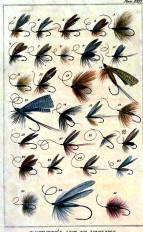 of Pond and River Fish; a Description of the Proper Baits for Each, with
the means of procuring them, and Directions for the Choice of Tackle;
comprising also Original and Interesting Information in all the Principal
Branches of the Art. c1800, 58 pages.
4. The Art of Angling, Greatly Improved, containing the most
Esteemed Methods of Angling for Pond and River Fish; the Baits for
each and how to Obtain and Preserve them; the Choosing of Rods and
Tackle. Also Instructions in Every Branch of Fly Fishing and for the
Making of Flies. c1846, 79 pages.
5. The Secrets of Angling, c1883, 70 pages, a reprint of the 1613
book with an introduction by Thomas Westwood.
6. The Fishing Rod and How To Use It, a Treatise on the Various Arts of Angling,
Trolling, Spinning and Fly Fishing, c1869, 105 pages.
7. The Scientific Angler, being a General and Instructive Work on Artistic Angling. c1883,
260 pages.
8. Fisherman's Lures and Game Fish Food, by Louis Rhead, c1920, 231 pages. With
Colored Pictures From Life of Various Creatures Fish Eat and New Improved Artifical Imitation
Floating Nature Lures and Chart Plans to Show the Haunts where Fish Feed on Them in Lake
and Stream.
9. Blacker's Art of Fly Making,comprising angling & dyeing of colours, with engravings of
salmon and trout flies, showing the process of the gentle craft as taught in the pages with
descriptions of the flies for the season of the year as they come out on the water. c1855, 328
pages.
10. Bait Angling for Common Fishes by Louis Rhead, 181 pages.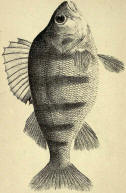 11. Bottom Or Float Fishing c1876, 115 pages.
12. British Angling Flies c1862, 186 pages.
13. Fishing Tackle, by Perry D. Frazer, c1914, 178 pages.
14. Angling – 'Being A Complete Treatise on the Art of Angling In Every
Branch'. c1876, 591 pages.
15. Angling – 'A Practical Guide to Bottom Fishing, Trolling, Spinning. And Fly Fishing, with a
Chapter on Sea Fishing.' c1867, 209 pages.
16. Days Among The Pike & Perch Being a practical treatise on angling for pike and perch
in river, lake and stream. By float, leger and paternoster, together with chapters on the personal
experiences of the author during the forty-six years of his angling career, by J.W. Martin.
c1907, 176 pages.
17. Handbook of Angling Teaching Fly-Fishing, Trolling, Bottom-Fishing and Salmon Fishing,
with the Natural History of River Fish and the Best Modes of Catching Them. c1847, 411
pages.
18. Bowlker's Art of Angling Embellished with numerous engravings, containing directions for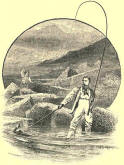 Fly Fishing, Trolling, Bottom Fishing, Making Artificial Flies, etc' c1826
157 pages.
19. Fishing at Home & Abroad dedicated by gracious permission to
His Majesty King George V. c1913, 594 pages.
20. 'Fishing' Salmon & Trout. Edited by His Grace The Duke of Beaufort.
c1888, 493 pages.
21. Barker's Art of Angling 'Wherein are discovered many rare secrets very necessary to be
knowne by all that delight in that recreation'. c1653 31 pages.
22. Fishing Tackle Modern Improvements in Angling Gear, with Instructions on Tackle Making
for the Amateur. c1922, 127 pages.
23. Fly Fishing Edited by the Marquess of Granby, by Sir Edward Grey, c1920, 308 pages.
24. The Pleasures of Angling with Rod and Reel for Trout and Salmon, by George Dawson,
c1876, 298 pages.
25. Roach, Rudd & Bream Fishing being a Practical Treatise on Angling with Float and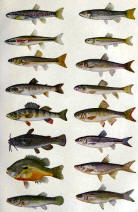 Ledger in Still Water and Stream. By J. W. Martin, c1896, 235 pages.
26. Salmon Fishing by John James Hardy. c1907, 225 pages.
27. Sea Fishing by John Rickerdyke, c1895, 623 pages.
28. Streamcraft An Angling Manual, c1919, 291 pages.
29. The Angler's Instructor by William Bailey. A Treatise on the Best
Modes of Angling in English Rivers, Lakes and Ponds and on The Habits
of the Fish. c1857, 125 pages.
30. The Sea Fisherman Comprising the Chief Methods of Hook and Line Fishing in the British
and Other Seas and Remarks on Nets, Boats and Boating. c1884, 341 pages.
31. Trout Fishing c1904, 362 pages, with colour illustrations.
32. The Fine Art of Fishing c1911, 202 pages.
33. The London Angler's Book Comprising original information for anglers generally,
combined with numerous amusing songs and anecdotes of fish and fishing. c1804, 210 pages.
---