1. 'Drives And Puts' – A Book of Golf Stories by Walter Camp and Lilian Brooks, 252 pages, c1899.
2. 'Golf' by Garden G. Smith 106 pages.
3. 'The Golf Courses of the British Isles' by Bernard Darwin, illustrated by Harry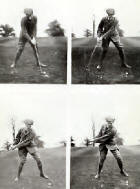 Rountree with water colours. c1910, 523 pages.
4. 'Golf For Women' c1916, 326 pages.
5. 'Hints To Golfers' c1902, 154 pages.
6. 'How To Play Golf' by H. J. Wigham, c1907, 336 pages.
7. 'My Golfing Reminiscences' by Harold Hilton c1907, 256 pages.
8. 'Poems on Golf' c1867, 95 pages.
9. 'Present Day Golf' by George Duncan, 347 pages.
10. 'The Art of Golf' by Sir W. G. Simpson. c1887, 243 pages.
11. 'The Golfer's Rubaiyat' c1901, 89 pages.
12. 'The Golf Swing' The Ernest Jones Method by Daryn Hammond, c1920, 252 pages.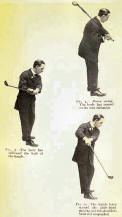 13. 'The New Book of Golf' c1912, 434 pages.
14. 'The Science of Golf' A Study In Movement, c1922, 170 pages.
15. 'The Winning Shot' by Jerome D. Travers & Grantland Rice, c1916,
294 pages.
16. 'Fifty Years of Golf – My Memories' by Andra Kirkaldy, c1921,
264 pages.
17. 'Golf' "A complete history of the game, together with directions for
selection of implements, the rules, and a glossary of golf terms", by Horace Hutchinson, c1908,
197 pages.
18. 'Golf Do's and Dont's' c1913, 62 pages.
19. 'Golf Greens and Green-Keeping' c1906, 259 pages.
20. 'How To Play Golf' c1912, 365 pages.
21. 'Intimate Golf Talks' c1920, 248 pages.
22. 'Picture Analysis of Golf Strokes' A Complete Book of Instruction c1919, 266 pages.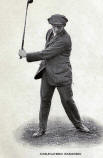 23. 'Practical Golf' by Walter Travis, c1909, 291 pages.
24. 'Taylor On Golf' Impressions, Comments, and Hints c1905, 445 pages.
25. 'The Game of Golf' by W. Park Jnr., c1896, 328 pages.
26. 'The Golfing Pilgrim' by Horace G. Hutchinson, c1898 340 pages.
27. 'The Happy Golfer' by Henry Leach "Being some experiences, reflections and a few
deductions of a wandering player", c1914, 428 pages.
28. 'The New Golf' by P. A. Vaile, c1916, 353 pages.
29. 'The Spirit of the Links' by Henry Leach, c1907, 358 pages.
30. 'The World of Golf' by Garden Smith, c1898, 388 pages.