Part 1. Books, Catalogues...
THESE comprise 35 Books & Catalogues. All are full scans complete with illustrations. They are in .pdf format for reading on a computer using Adobe Reader, which comes as standard usually (or is otherwise downloadable free).
1. A Complete Course in Millinery 1919. Twenty-four practical lessons detailing the processes for mastering the art of millinery.
2. Complete Guide to Millinery, 1916. (By the Kintzel Millinery Shool).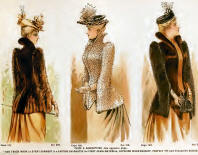 3. Hat Making and Felting, 1868.
4. Home Millinery - Madame Margariete'z Manual.
5. Head Wear Ancient and Modern, 1885.
6. Head Gear Antique and Modern, 1879.
7. Dressmaking and Millinery, 1916.
8. Deutsch & Co Catalogue Fall and Winter 1891.
9. Debenham & Freebody Fashion Book, 1874. Mrs A. Fletcher's illustrated catalogue of ladies and children's underwear "constructed on dress reform and hygienic principles".
10. Concerning Millinery, 1902.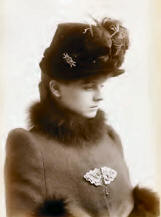 11. Home Millinery Course, 1909. "A thorough, practical and complete series of lessons."
12. How to Handle Hats, 1905. "The only work published on the subject."
13. Instructions in Hat Cleaning and Renovating.
14. Lloyds Treatise on Hats with Twenty-Four Engravings, 1819.
15. Lord & Taylor Latest Styles of Hats and Bonnets.
16. Make Your Own Hats. 1921. illustrated book of modes and costumes, 252 pages.
17. Manual for a Millinery Department, 1922.
18. Millinery 1922. The Merchandise Manual Series.
19. Modern Millinery 1922. "A workroom text book containing complete instruction in the work of preparing, making and copying millinery."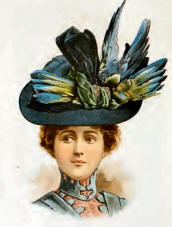 20. O'Neill & Co Fall and Winter Styles, 1899.
21. Practical Science and Secrets of Making Over Old Hats 1912.
22. Scientific Hat Finishing and Renovating 1919.
23. Straw Hats their History and Manufacture.
24. The Handbook of Millinery 1847.
25. The Ladies Self Instructor in Millinery - Embroidery and Applique, 1853.
26. The Milliners' Guide 1917.
27. The Millinery Department 1918.
28. Treatise on Hat Making and Felting 1868.
29. The Twentieth Century Hat Factory 1911. "All the various production processes described for all the different types of hats."............
PLUS SEVERAL MORE TITLES MAKING 35 ALTOGETHER IN THE BOOKS SECTION ALONE!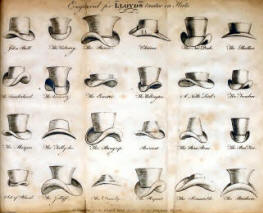 A wonderful collection offering hours of reading at a low price - Treat Yourself?

Part 2. The Prints...
FIFTY+ master print images are included in a folder for your personal use and each has been restored and enhanced for making prints using standard A4 photo capable printers - or larger format too for several of the bigger, high resolution ones also included!
Note these are uniquely restored versions and may not be copied for resale or for inclusion in image compilations by other dealers.
Here are just a few (much reduced in size) examples....
| | |
| --- | --- |
| | Several images are provided in larger format for making big prints. For example at a high resolution of 300 dpi this print still comes out at 13 inches on its longest side! |
---
Note to buyers. Although the underlying material is mostly in the Public Domain due to its age or distribution rights (some material is also exclusive to us) additional editing of damaged material, or other improvements, have been carried out making this varied set a unique offering available
only from Collectaprint in this format.
It is provided at a particularly low cost, mainly to cover materials plus fees and various associated overheads.
---
Adobe Reader Format
The texts are presented in a convenient Adobe Reader form (.pdf files) suitable for all computer systems and which allows each title to be read individually on a computer screen and at your leisure. This format also allows for all the essential illustrations to be shown in their full size, in-situ, as opposed to the text-only 'e-books' sometimes offered. Adobe reader itself is completely free to download from the Adobe web site, although it usually comes pre-installed anyway as standard on most computers.